Spring in Palm Beach County is a favorite season for many local seniors and Snowbirds as it offers cool nights, warm days and lower humidity.  It is also a great time to get out for a walk on one of our local nature trails and parks in Jupiter, Delray and Palm Beach County. Many of the parks have special needs and disability access such as Okeeheelee Nature Trail, which is a network of wheelchair-accessible walkways wind through 90 acres of pine flatwoods, oak hammocks, and dense palm hammocks.
Health benefits found through access to nature are key ingredients to our well-being as we age. Studies show that physical activity in green spaces can be linked to better moods, decreased depression, reduced stress and improved cognitive function. In addition, the frequency and amount of time spent in nature correlate with feelings of mental restoration: An extra 30 minutes spent in nature increases this restorative effect. Check out Riverbend Park , in Jupiter, with compacted paths suitable for wheelchairs and strollers that meander on a trail system through the Loxahatchee River floodplain.
In a recent paper written by researches in the United Kingdom – The Benefits of Nearby Nature in Cities for Older Adults – older individuals with access to nearby green spaces showed increased participation in outdoor physical activities, improved mental health and cognitive function and an increase in social interaction with those around them and their community. For those with limited mobility, easy access to natural outdoor spaces can provide a lifeline to social interactions they might not get elsewhere.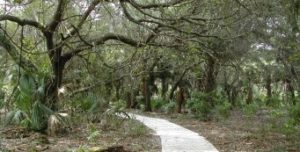 Another example of an easy-access walk nearby is the Frenchman's Forest Natural Area in Palm Beach Gardens. Frenchman's Forest Natural Area offers nearly 3 miles of trails through a 172-acre natural area with seven different habitats to explore, right behind the Gardens Mall.
Accessible Nature Trails and Programs Near You
https://floridahikes.com/west-palm-beach

Ann Norton Sculpture Garden
One of the largest palm collections in the United States is the backdrop for the oversized works of sculptor Ann Norton on this 1.7 acre estate adjoining her former home and studio in West Palm Beach.
Bethesda-by-the-Sea
At Bethedsa-by-the-Sea, worship is not held just in hallowed halls but in the grace of the garden. Surrounding this historic Palm Beach church are colorful plantings of unusual tropical plants like the big leafed sea grape.
Custard Apple Trail
Winding through a tropical hammock and along open marshes, the interpretive Custard Apple Trail provides a taste of the wilderness that once covered Lake Worth.

Four Arts Gardens
Designed in 1938 as demonstration gardens by the Garden Club of Palm Beach to show the diversity of tropical plants available for landscaping in the region, the Four Arts Gardens offer a peaceful retreat from the surrounding downtown area.
Green Cay Wetlands
At Green Cay Wetlands, boardwalks meander through 100 acres of re-created wetlands that bring a touch of the Everglades back to its original home in Boynton Beach.
Hog Hammock Trail
Offering a hike into the Loxahatchee Slough, the Hog Hammock Trail at Grassy Waters Preserve leads into a dark, fern-filled cabbage palm hammock with a 2.8 mile loop.where you'll see dozens of species.
Mounts Botanical Garden
Dense woodlands, open plains, and lakes: it's all recreated here just outside the fence of the West Palm Beach International Airport at Mounts Botanical Garden, where unusual trees like baobab and rainbow eucalyptus are with more common tropical flora and native
Okeeheelee Nature Trail
A network of wheelchair-accessible walkways wind through 90 acres of pine flatwoods, oak hammocks, and dense palm hammocks in the far corner of Okeeheelee Park.
Pan's Garden
Established in 1994 to celebrate the beauty of Florida's native tropical plants, Pan's Garden hides in the midst of the tony downtown Palm Beach business and shopping district, with several entrances to let visitors slip in for a moment's rest.
Wakodatahatchee Wetlands
Wading birds everywhere: that's the delight of a walk along the boardwalks of Wakodahatchee Wetlands. The first wetlands park in the region, it continues to draw a regular crowd for morning stolls, photography, and serious birdwatching.
Wetlands Hammock Trail
An outdoor classroom for schoolchildren, Pine Jog Environmental Center is also open to the public to explore the deeply forested 135-acre urban property on an array of short nature trails.